Studio clients
Rachael Wood - Guitarist
Studio recordings
| | |
| --- | --- |
| Summertime | (MP3 192kbps Stereo, 3:41 5MB) |
| Jaxx | (MP3 192kbps Stereo, 4:23 6MB) |
Rachael Wood

- Lead / Rhythm guitars


Dan 'The Dude' Partington

- Bass guitar


Andy Ellis, AREmusic

- Rhythm guitar / Drum programming / Engineering
Introduction
Rachael has recently recorded 2 tracks at the studio consisting of guitars, bass and programmed drums. These were used as backing tracks for her performances at the Guitar Hero Competition 2005 for which she was the winner of the blues alternative section - congratulations!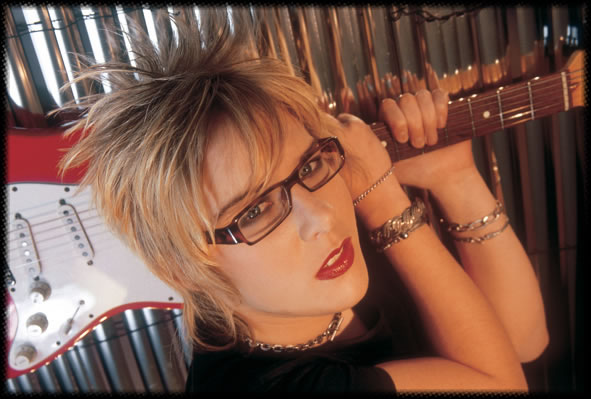 Rachaels current projects
Paul Steel
Talented Brighton based songwriter. Has been compared to the likes of 'XTC' and the 'Super Furry Animals'. Definitely one to watch. Amazing vocal harmonies to complement excellent songs.
Ellie Holland
London based R&B artist who has sang backing vocals with artists such as 'Angie Stone' and 'Rachel Stevens'. Ellie's tracks combine soul, jazz and rock to create catchy melodies accompanied by a tight, funky band.
Cathryn Stone
Brighton singer songwriter. Relaxed modern folk with jazz influences. Cathryn is a favourite on the songwriter scene, and has a respectable fan base around the country after playing festivals last year.
Session work
Rachael records and writes for producer Yak Bondy (Emma Bunton, Amy Studt).
Rachaels past projects / achievements
Alex Parks
Performed live at the 'MTV awards after show party' and the 'London Astoria'. Television promotion includes Top of the Pops', 'CDUK', 'Popworld' and 'This Morning.
Function bands
Experience in jazz and covers bands that have gigged all over the country at weddings and venues such as 'Pizza on the Park' (Hyde Park Corner).
Magazine work
Written for 'Total Guitar' and created original concepts for magazines:
Radio interviews
For Radio Four Woman's Hour' and BBC Radio Derby Breakfast show.
Guitar hero competition
Winner of the Blues alternative section 2004 and 2005:
| | |
| --- | --- |
| Summertime | (MP3 192kbps Stereo, 3:41 5MB) |
| Jaxx | (MP3 192kbps Stereo, 4:23 6MB) |
Rachael Wood

- Lead / Rhythm guitars


Dan 'The Dude' Partington

- Bass guitar


Andy Ellis, AREmusic

- Rhythm guitar / Drum programming / Engineering
Contact
Page last updated 01/12/2005